Professional Development
---
Give your students a wallop of wonder and mystery!


"I found this class to be one of the most exciting and valuable that I have taken."
—Lisa Abramovic, Beaverton School District
______________________________________________________
The Private Eye — Hand's Inquiry across the Curriculum Workshop

(One to Five-Days)


Experience a lively introduction to the hands-on, interdisciplinary Private Eye program! Not only are these STEM / STEAM workshops aligned with the Common Core and the Next Generation Science Standards, they make meeting these standards easy and fulfilling.


The Private Eye develops critical thinking, creativity,literacy and scientific / mathematical inquiry across subjects. On each day's workshop, participants explore The Private Eye strategy as they write, draw and theorize —using rich table-top fieldwork. By afternoon of Day One, the essential habits of mind and steps of The Private Eye process come together in a theorizing lab: participants work to solve a Dusty Miller Puzzler by looking closely, thinking by analogy, changing scale and theorizing.Each day alternates between team and individual work, as inquirylinks to content.

Day Two features an extended writing lesson,a dramatic "change of scale" drawing, and a math inquiry to develop the mathematical mind.

On Day Three, participants practice outdoor fieldwork, write extended informational texts, expandmath inquiries into symmetry and polygon hunts, and experience an animated inquiry into engineering and design. Throughout the orkshop, participants have time to begin thinking out their own lesson applications.

By Day 4/5, in addition to deepening ThePrivate Eye Habits of Mind through multiple activities, participants create an extended lesson / unit for their classroom use
.
"Our teachers that came to the training this summer cannot stop raving about what they learned."
—Joan Walker,
Science Resource Teacher
Curriculum Services, Orange County Public Schools, FL
C
ourse materials:
As part of the workshop each participant will receive:
The Private Eye Teacher Guide
The Class Loupe Set (36 loupes in polygrid case)
The Private Eye Deluxe World-in-a-Bag (two loupes and eight specimens)
The Private Eye Notebook
The Private Eye Poster
Lesson Handouts
Loupe Leash and Head Leash
Pivotal overheads used during the workshop—makes it easy for teachers teaching The Private Eye in the classroom. One master set (paper) of 18 overheads given to district in advance. Districts typically duplicate these and hand out one set to each course participant.
Download a pdf of our Workshop & Materials Portrait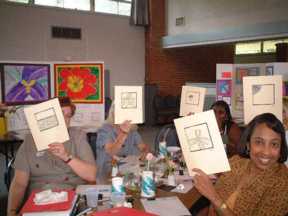 "My teachers loved the
2-day Private Eye workshop and most write that they thought it was the best workshop that they had ever attended!!!"

— Shirley Farrell, Supervisor of Gifted Education, Jefferson County Board of Education, Birmingham, AL