Full STEAM Ahead!


---



Quatama Elementary using The Private Eye® Program
by Sharon Angal,
—STEM TOSA, Hillsboro School District, Hillsboro, OR,
Finalist, 2016 Presidential Award for Excellence in Science Teaching.
------------------------------------------------------------------------------------------------
[NOTE: Quatama Elementary is a STEAM school in Hillsboro, Oregon. The entire staff attended a 1-Day Private Eye workshop. The following is a profile of the impact during the first year of using the program; two or three teachers had used The Private Eye the previous year as well]

Teachers used The Private Eye program in many different ways in their classrooms. We started out the year on fire, ready to make it an everyday part of the curriculum, but alas, as happens in many cases, school got in the way.

However, many skills were set in those first few months for students that would not have been there if The Private Eye Program had not been implemented. As someone who is not in everyone's classrooms, it is difficult to know what exactly has happened in our school. Evidence of louping activities lined the hallways for many months as the school year started. Teachers were excited about using their new learning with their students. It seemed most every grade, but some of the upper grades, were getting kids to loupe and loupe and loupe.





I know for me, it was an amazing way to start off the school year; getting kids up, active, and thinking in a fun way. They were learning all the time and didn't even realize it. They were excited to share their ideas with others. It brought my ELL students into the mix, because there was "No wrong answer, just what you think." That freed them up to be confidant and part of the discussion; knowing no idea was a bad or wrong idea. Students were going to each other's desks to look at what they were seeing and listen to different ideas. The drawing they did during their first close, closer, closest drawing was amazing. It was absolutely stunning and many adults commented on the quality and beauty of the work when they would see it in the hall. Many had a hard time believing 2nd and 3rd graders were able to produce such high quality work. Students also responded well to having to explain "why" they thought of an idea.

I was in all three first grades just a few weeks ago using the dusty miller lesson. I had to adapt it for first grade, but their thinking and reasoning was right on. It was actually quite fun to hear their ideas and see them get excited about this plant. They loved looking, touching, smelling, and thinking about why the white fuzz is on the leaf and what its function was for the plant. We took all of the dusty miller plants (I didn't cut off all the leaves because I wanted the plants to survive) and planted them in the garden so we will have a good crop for next year's dusty miller activities.

Students in my class would ask me about getting out loupes and wanting to know when we were going to do it again. Asking how come it had been so long. They were highly engaged and thrilled with the discovery of everyday objects they hadn't thought to look closely at before. Even parent helpers wanted a part of the discovery and told me that it changed how they looked at nature when they were out walking with their children.





I believe that The Private Eye did boost engagement and improve student focus. I found my class wanting to try and come up with "new ways" to think about what they saw, so they were very intent when viewing something through the loupe. Their writing was more creative and thoughtful.

In reflection, here are some of the things that other teachers found happening with students in their classrooms:

I saw lot of improvement over the year while using the loupes. My students have been able to describe how things look and what they remind them of much better now than they could at the beginning of the year. They've been able to write some great sentences using sentence frames. It was an easy and fun way to combine science, writing and speaking. –Chris Brosnan, 1st

It increased the length of time of engagement and number of students who stayed involved and engaged. It created a new sense of wonder and curiosity about what else is out there that might be undiscovered right under our noses. It brought in an element of surprise without the use of any technology or screen or sounds or fireworks. That was my favorite part. – Cindy Simantel, 3rd

I used Private Eye differently this year than last. The things we louped were more intentional and subject related. I think that they were able to go deeper with content and their understanding was more concrete. The students had more engagement with dry topics (using money to loupe while going through financial planning.)

They made connections more quickly with other content areas- meaning their analogous thinking was transferring. Their word choice was extended and they were often using phrases like "oh, that reminds me of….."

I did notice that their drawings were more intentional this year as well- when we did our loupe drawings, and I think it's because each time we louped we drew instead of picking and choosing between our louped objects. I think that added an extra layer to their understanding of what they were looking at. – Bre Page, 3rd

I really loved using the Private Eye format in my classroom. I think it totally enriched the vocabulary my students use in their writing and now everyday language. – Shannon Jones, 4th

In the beginning of the year I did more with what we learned at the Private Eye session. Then as the months passed and the year went on I left it behind. The team building that my kids were able to do because of Private Eye at the beginning of the year was priceless and helped me to get to know my students quickly. The students were able to relax the first few months and get comfortable in their new environment. – Wendy Peterson, 4th

In conclusion:

I think that for our first year using The Private Eye, we did pretty well. Is there room for improvement? Definitely! The key will be to work together to find ways to incorporate louping in more areas of learning. We also need to find ways to showcase and appreciate what teachers are doing by sharing with each other. Finding time at an occasional meeting to talk about how things are going and what each other is doing would help everyone gain ideas and grow. Using The Private Eye marries well with our STEAM initiative. I think that year two will be better. I know I have done a much better job using the loupes in my classroom this year than last, and next year will be even better. Teachers are enjoying it and students love it, so it will be a program that stays with us in our STEAM work.

Sharon Angal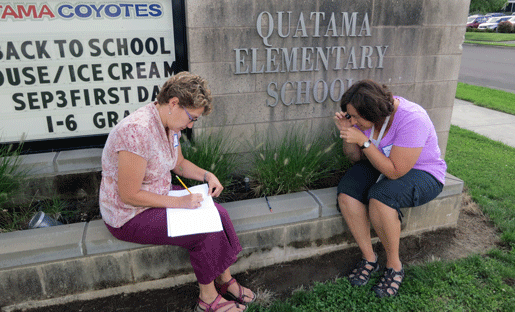 Quatama teachers working as teammates doing outside "Private Eye" Fieldwork!
Back to Field Reports