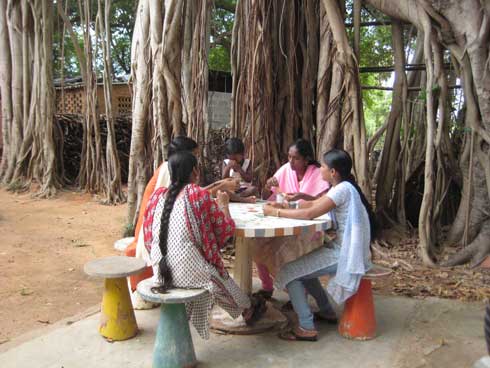 The classroom is essentially a semicircle with a chalkboard on the inner courtyard side. The teachers sit on the cement floor at very low tables (15'-20" high). The men tended to cluster together as did the women except for Shankar's table which included a teacher from Germany, a French teacher—Francoise who is currently on their Board, and one Tamil teacher—Mala. I start with a moment of silence and am sitting on a small stool in front of them. Even in light Indian clothing I am sweating profusely!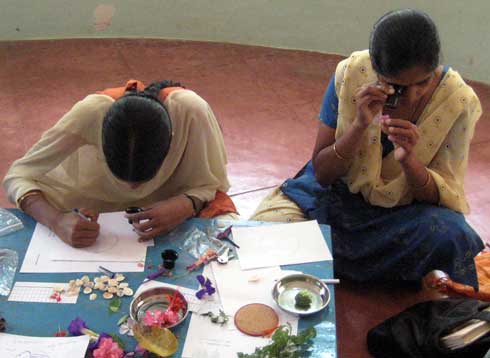 I have always loved working with The Private Eye so this is an inexpensive way to open other doors of learning for the teachers and their students in a very interdisciplinary way.

To introduce them to the loupe, I took them through a task "Observing a Rupee" [a lesson] which I converted from one that I do using a penny. This particular exercise shows me that the student (kid or teacher) can get the loupe in focus which lays the foundation for all other Private Eye work and jeweler's loupe observations. They enjoyed this activity and the discovery of the details on their most common of coins. They laughed and giggled like kids, and their drawings improved markedly in the space of 45 minutes.
.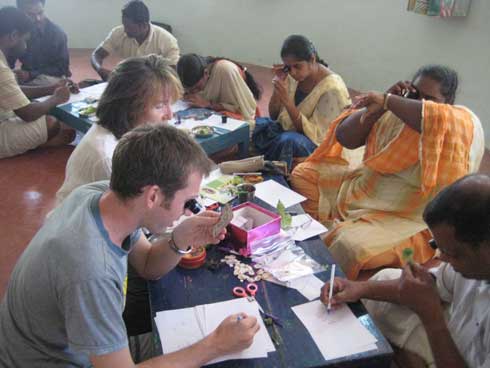 We took a break at 10:20 a.m. and had morning tea and biscuits. On the way back to the classroom, I asked them to gather leaves, seed pods, flowers, rocks, anything of interest that they might want to observe with the loupe. I also came armed with stuff to scrutinize including dead bugs, small fabric squares, band-aids, cotton pads, broccoli florets, seed pods, twine, etc.

Paper is precious but we used half sheets with 5" circles drawn in the center. We labeled each drawing 5x or 10 x with the name of the object next to the center circle. I like students to draw in ink so that they don't erase and they learn to draw quickly. (I brought 60 pens from the University Bookstore to leave at Aikiyam School.)

The teachers started to draw and label each observation, and they relaxed and opened up as they felt their way through the activity. We began to add analogies. I placed each completed drawing on the wall or cabinet, side by side, so they could admire their work. Their drawings and analogies steadily improved and they went about their discoveries with genuine excitement and laughter.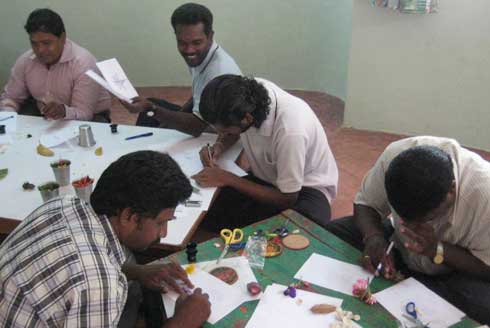 We talked about taking these analogies to the next level—if it "looks like, feels like something, could it function like that?" Our three hours together blew by, but I think they were pleased with this very new, hands-on approach to learning with such a cool, simple tool. One of the English/math teachers of the 7-8 year olds told me "I've never seen anything like this".

______________________________________________________________________



SOME BACKGROUND ON THE SCHOOL
I will do the workshop for the upper grades – 3 through 8th at Aikiyam School. Shankar is the principal there, and he is in my workshop for the full three hours. He is a wonderful friend and resource for us (University of Washington) and he is always smiling, always kind. He is Tamil and grew up in the village that Aikiyam serves. Shankar is Aurovillian now. He exemplifies the graciousness and kindness of the Tamils that we meet every day.

Shankar's school is one of 11 outreach schools that serve children from the local villages that surround Auroville. The families must provide the uniforms that the children wear, but the schools provide everything else. There is a small charge of maybe $2-3 dollars/month for a child who attends these schools. Classes are taught in English and Tamil.

Every day, the children pause for tea and a snack at 11:00 a.m., and at 12:30 p.m. a full lunch is served, e.g. rice, vegetable curries, yogurt with cucumbers, etc. The food is delicious and they can eat (sitting on the cement or dirt) as much as they wish as this might be their only meal of the day. Everyone eats with their right hand and is responsible for washing their own stainless steel plate. (Every day, three women cook for Aikiyam's 200 children and staff. They lower a giant wok into a brick wood-fired stove outside. They are always dressed in saris which have to be one of the most beautiful garments in the world.)

Shankar's school and 10 other outreach schools focus on activity based learning (ABLs) in what I perceived to be a loving, encouraging, and safe environment. The kids are radiant, energetic, and quick to smile. In Southern India, essentially, you are living outdoors (it's hot and humid!) so classrooms must be open and breezy (or you pray for a breeze). We are always grateful for shade and fans.

The children have also planted raised gardens so they can participate in the process from preparation to harvest. Vegetables can be grown year round. They have lined the borders of the gardens with tapioca plants along a stick fence to keep animals out of the gardens.


SOME BACKGROUND ON ME
I have used The Private Eye materials/loupes since the 1990's when I was consulting and doing free-lance work in science education. I love using the loupes because they provide immediate feedback into another world. Kids always have a sense of wonder that gets amplified when they are using the loupes, but the same thing happens to adults. They too become excited with wonder and discovery. When combined with The Private Eye questions, the loupe is a great and simple tool that gives transformative feedback.

Amelia M. Bowers, M.Ed.
Education Program Advisor
University of Washington Bothell