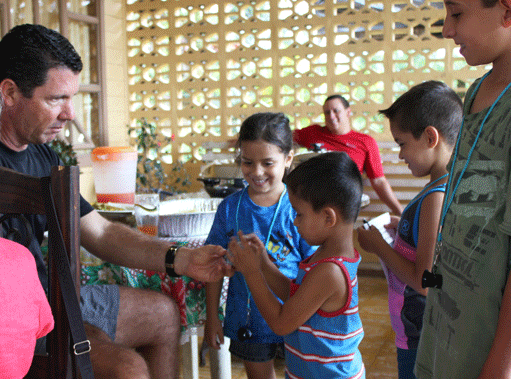 Language barriers? Not when you are practicing The Private Eye Process! The Private Eye loupes and questions transcend language barriers! That's what I found out when I introduced them to a group of elementary students at Escuela Agua Azul near La Fortuna, Costa Rica, in February (2016). What an extraordinary experience for us all!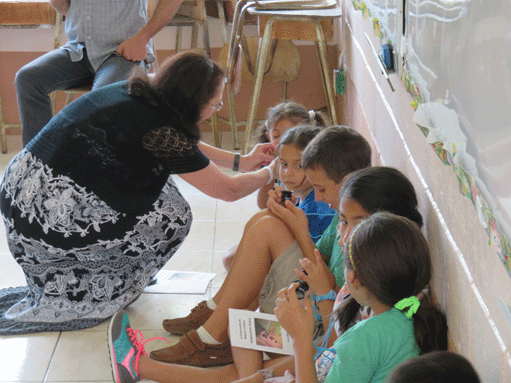 First, a little back story. Joan Dawson and I are Certified Private Eye Trainers for Alabama and we have been huge fans of the program since 2002. Of all the teacher workshops we've facilitated/conducted over the years, The Private Eye has made the most impact on our teachers and their students.

Fast forward to January 2016.

My husband and I planned a 2-week trip with the Overseas Adventure Travel company (part of Grand Circle) to explore Costa Rica; partly because they travel in small groups (there were 12 of us) and because it promised to be an adventure/learning experience. (Boy, was that right!) But here's where The Private Eye comes in. The itinerary called for A Day in the Life of a Costa Rican Village. We were told we would visit a pioneering family's homestead (descendants of the original natives), visit the local school, then enjoy local cuisine at one of the homes in the village. School supplies and/or donations for the school were encouraged. As soon as I read that, I knew exactly what I wanted to do!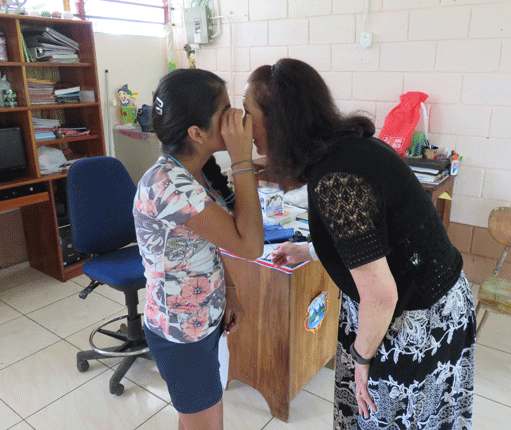 After conferring with our trip leader (Eddie Recio; beyond amazing) and The Private Eye Project, we added to our already overflowing luggage two class sets of loupes, recording notebooks with the title and information regarding the gift in English and Spanish, and handouts listing the Private Eye questions in Spanish (and English). Eddie arranged with the teachers and principal for me to do a little lesson with a small group of the children in how to use the loupe and the first question: "¿A qué más me recuerda?"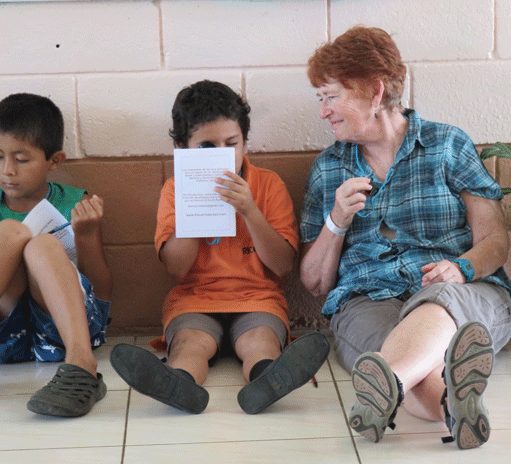 As they louped their hands and began calling out their thoughts, the principal was recording them in her own notebook while Eddie told me what the children were saying. Once they seemed to be getting the idea, we let the children go outside to explore and the rest of our travel group paired up with them to help. (The Private Eye Project provided loupes for the others in our travel group and we made sure they knew how to use them before the school visit.) That gave us time to talk to the teachers, providing a little more info on the program. They were very appreciative and promised to use everything we had given them and would send reports and pictures and questions.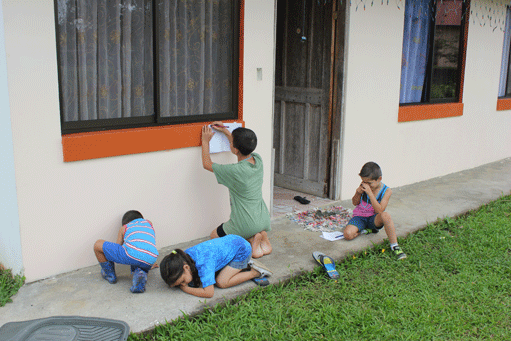 Since I've discovered Google Translate, and we always have Eddie, I'm hoping we can form our own little international learning community!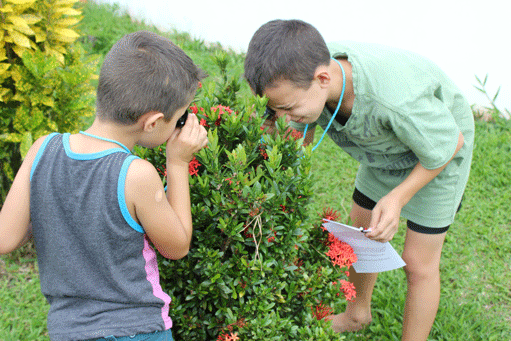 When we left the school to go to our home-hosted lunch, it turned out to be the home of several of our students and their father, Louis, who also participated in our lesson (he was as excited as the students). As soon as we got there, Louis Jr and his sister and cousins gathered their neighbor friends and were showing them the loupes and how to use them. Of course the adults began giving their loupes to the neighbor children who did not get one at the school. They were louping everything. Louis, Jr, was recording in his notebook. They couldn't understand most of our language and we couldn't understand most of theirs, but the Private Eye process created a lot of communicating that day, anyway. It was a thrill for all of us.